Aptinex Raykha S8 – Reflective Sensor Array
Roll over image to zoom in
Click to open expanded view
LKR1,650.00
TCRT5000 based 8 channel Reflective Sensor Array
Compare
Raykha S8 comprises 8 units of  TCRT5000 (Reflective Optical Sensor IR LED/phototransistor) pairs mounted on a 10mm pitch, This arrangement makes a it a great detector for  line-following robots.  Each sensor is having its own Digital I/O measurable output , variable voltage analog output and an indication LED.
Features
Model : Raykha S8
IR sensor : TCRT5000
Indication : Red SMD LEDs x 8
Channels : 8
Pitch : 10mm
Supply voltage : 5V DC
Supply current : 200mA max
Digital Outputs : 8
Analog Outputs : 8
PCB Size : 78.00mm x 25.00mm
Top View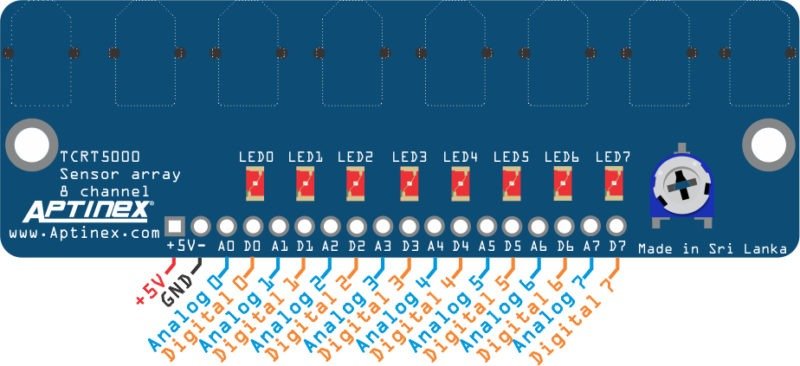 Bottom View

Functional Description
Raykha Reflective sensor array is intended as a line sensor, but it can also be used as a general-purpose proximity or reflective sensor. To work with the Module following procedure to be followed.
1. Mount the sensor module
2. Provide power (5V DC)
2. Adjust the preset for the color variation
Package includes
1 Unit of Raykha S8
Right angle male header
Straight male header
Features Description
TCRT5000 based 8 channel Reflective Sensor Array