ANIMO 7020C NB-IoT Dev Board/Shield
Roll over image to zoom in
Click to open expanded view
SIMCON SIM7020 based NB-Iot development board / Arduino Compatible shield
Compare
What is NB-Iot ???
NB-Iot (Narrow Band-Internet of Things) is LPWA (low power wide area) technology which is developed for enabling a wide range of new IoT devices and services. A significant improvement of the power consumption on user devices , system capacity and spectrum efficiency are to be catered by NB-Iot. It is proven that a battery life of more than 10 years can be supported for a wide range of use cases. With the improvements of new physical layer signals and layers, the demanding requirement of extended coverage in rural and deep indoors can be met while keeping the devices complexity ultra low.
SIM7020C
The SIM7020C is a Nb-IoT module with multiple bands supported and also its in SMT type. Witha set of rich interfaces including UART,GPIO etc. , SIM7020 has a strong extension capability nad much flexibility and ease of integration for customers applications. In addition SIM7020 is compatible with SIM800C which is having the capability of minimizing the investments of customers and minimizing the development time.
ANIMO 7020C
ANIMO 7020C is a development board cum a shield based on SIMCON SIM7020C. With a wide range of features and the Arduino friendly form factor plues design , ANIMO 7020C will be the ultimate solution for anyone who is interested in NB-IoT to develop their applications.
ANIMO 7020C FEATURES
PCB Dimension : 54mm x 69mm
NB-IoT Module : SIMCOM SIM7020C
Bands :  B1/B3/B5/B8
Sim Card : Mirco Sim Support
Power Supply

USB
LIPO Battery 3.7V
External 5V
Dry cell

Indication LEDs (4)

STS – SIM7020 Status Indicator
NET – SIM7020 Network Indicator
CHG – Charging Indicator
ST – Battery Indicator

Shield support : Arduino Uno or equivalent
Switches (2)
External pins to be accessed via pin headers
Antenna connectors (2)

SMA right angle
UFL Connector
Micro jumper selections (2)

Power Selection

LiPo – Power Via Lipo Battery (max 4.2V)
EXT_5V – power via External 5V
USB – Power via USB

UART Selection

Arduino Software Serial
Arduino hardware Serial

Solder Jumper Selections (4)

Module Power Selection

Dry Cell
External (Default)

Charging Source Selection
Shield Pins
STS LED
NET LED Enable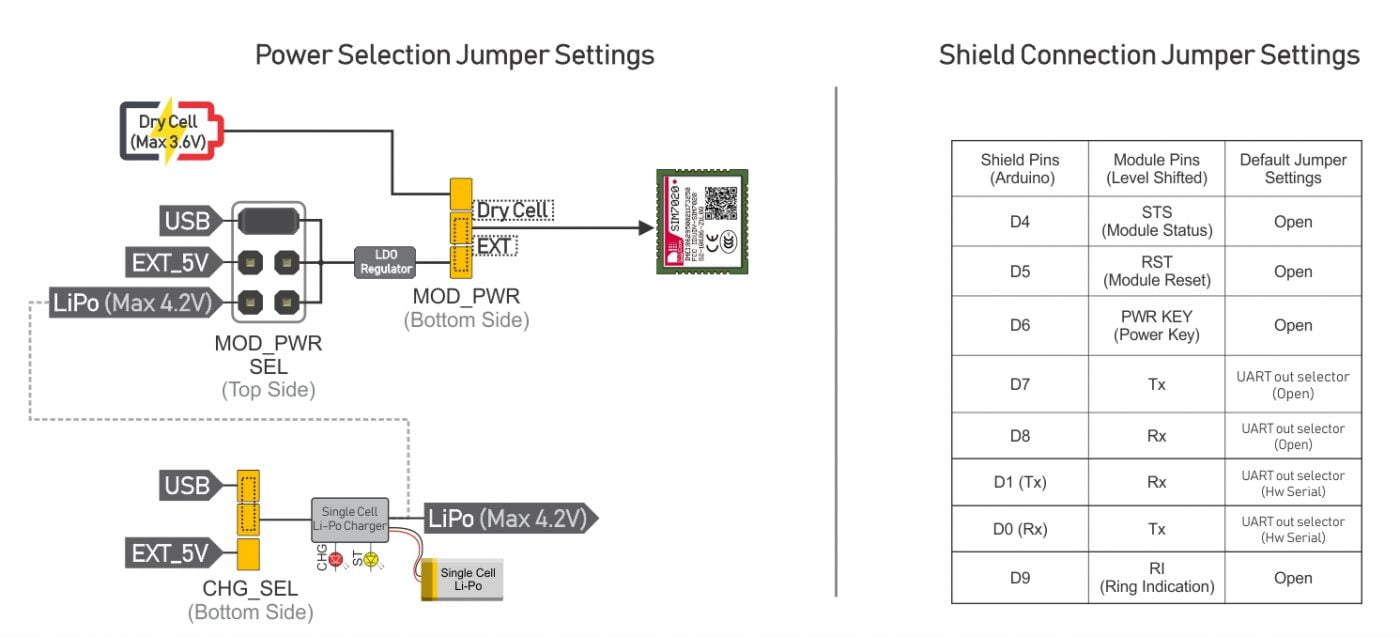 PACKAGE INCLUDES
ANIMO 7020C
Antenna
Pin headers
Micro jumpers