Max30105 High Accuracy I2C Particle Optical Sensor Photodetectors Board Module
MAX30105
The MAX30105 is an integrated particle-sensing module. It includes internal LEDs, photodetectors, optical elements, and low-noise electronics with ambient light rejection. The MAX30105 provides a complete system solution to ease the design-in process of smoke detection applications including fire alarms. Due to its extremely small size, the MAX30105 can also be used as a smoke detection sensor for mobile and wearable devices.
The MAX30105 operates on a single 1.8V power supply and a separate 5.0V power supply for the internal LEDs. It communicates through a standard I2C-compatible interface. The module can be shut down through software with zero standby current, allowing the power rails to remain powered at all times.
Along with Maxim's sensor, customers need smart algorithms to detect the particles of interest. Maxim is partnering with Valor Inc. to develop state-of-the-art algorithms for smoke detection applications using the MAX30105. Contact Valor for licensing information at www.valorfiresafety.com/licensing/.
Key Features
High Sensitivity Optical Reflective Solution for detection of wide 
variety of particle sizes
Tiny 5.6mm × 3.3mm × 1.55mm 14-Pin Optical Module

Integrated Cover Glass for Optimal, Robust Performance

Ultra-Low Power Operation

Programmable Sample Rate and LED Current for Power Savings
Ultra-Low Shutdown Current (0.7µA, typ)

Robust Motion Artifact Resilience
-40°C to +85°C Operating Temperature Range
Capable of Operating at High Ambient Levels
Excellent Ambient Rejection Capability
Module Features
Module supply voltage: DC 5V
Working environment temperature: -40 ° C ~ 85 ° C
Communication interface: IIC
Ultra-low power consumption: programmable sample rate and LED current
Save power; ultra-low standby current (0.7μA, typical)
Module size: 24.6mm*14.5mm with two M3 mounting holes
Schematic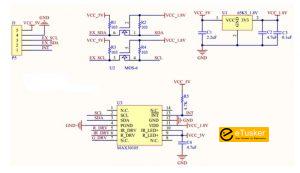 Applications/Uses
Fire Alarms
Smoke Detectors for Building Automation
Smoke Detectors for Mobile Devices
Smoke Detectors for Wearable Devices